AUSLMAT "Heal Our Nation" Project Update
In partnership with #MedicalHelpSriLanka
Last updated: 7th August 2022
In response to many requests received from medical specialists in public hospitals and the Ministry of Health in Sri Lanka, AUSLMAT has initiated the "Heal Our Nation" project to raise funds for medical supplies. Since the project was commenced in mid-April 2022, with immense community enthusiasm and support, we have so far raised over AUD 156,153 from which we have purchased the following equipment.
Item

Quantity

Cost (AUD)

Fisher and Paykel RT 265 breathing tubes donated to 7 NICU units

Fisher and Paykel Neowraps donated to 7 NICU units

Phosphate phebra tablets donated to 7 NICU units

Fresenius Kabi triple blood bags

Cefotaxime vials to Dehiattakandiya hospital

Valproate tab 200mg to Dehiattakandiya Hospital

Ceftriaxone vials for A'pura hospital

Ceftriaxone vials for various hospitals

Vygon central lines for NICU units

Fisher and Paykel pediatric NIV masks for Sirimavi Hospital in Peradeniya and LRH

Blood glucose / ketone strips

Paediatric suction catheters

Paediatric laryngeal masks
Pending purchases (currently in the process of obtaining quotes / NMRA approval / transport from India):
Medicines (Atracurium, Metronidazole, Erythropoietin and Sodium Valproate) –  for total cost of approximately AUD 50,000.
CAPD solution bags for peritoneal dialysis patients – approximately AUD 30,000.
In addition, with the assistance of the global consortium #MedicalHelpSL, we have:
Coordinated the purchase and delivery of 4000 vials of Streptokinase, 20,000 vials of soluble insulin for other donor groups.
Assisting other fund raising teams to procure medicines and medical items for the Paediatric Liver Transplant Unit at North Colombo (Ragama) Teaching Hospital and Lady Ridgeway hospitals.
Coordination and delivery of donations worth over AUD 200,000:
AUSLMAT is currently coordinating the following donations and organizing delivery to Sri Lanka:
Paediatric equipment dinated from Dr. Nelu Simmons.
Medications donated by Generic Health.
Cardiac catheter equipment donated by Medtronic and Abbott, Australia.
1000 vials of Cefotaxime and 36,000 tablets of Sodium Valproate for Dehiattakandiya Hospital handed over to Dr. Malaka Udugamage and team of doctors.
Donation of 1000 vials of Cetriaxone to A'pura hospital handed over to Prof. Sisira Siribaddana.
Donation of 1540 triple blood bags to the Blood Bank as a part of the donation of 5000 blood bags from #MedicalHelpSL.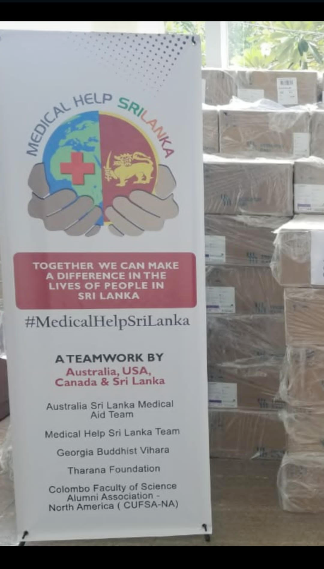 Please visit our photo gallery on www.auslmat.org to see a snippet of our work, which many of you have so graciously contributed to in both time and money (for goods and transportation).   If you feel compelled to contribute, or know anyone who does want to further our cause, please click on the DONATE NOW button on almost every page of our website.  We will gladly accept any level of assistance.